Chaplain Carlos Ortiz and medical social worker Jessica Pineda visited Jim Alvarado every Friday at his board-and-care facility in Whittier. Each time they walked through the door, Alvarado greeted them with a big smile and warmly welcomed his friends inside. Beaming with pride, he would point to a picture on his wall of the Bradbury Building, a historic landmark located in downtown Los Angeles at the corner of South Broadway and 3rd Street.
Built in 1893, The Bradbury Building is famous for its beautiful Victorian interiors and has been spotted in various movies throughout the years. The building features an extraordinary sky-lit atrium of walkways, stairs, and elevators, all ensconced in ornate ironwork.
"Look, this is my home, and you are always welcome to visit," Alvarado would tell Ortiz and Pineda.
Upon his arrival in Los Angeles during the mid 1940s, Alvarado would eventually live and work at the famous Bradbury Building. Years later, this photo framed in his room allowed him to travel through time with each glance. He looked at that photo on the wall every day and thought of home.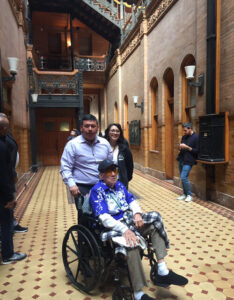 As a social worker, Pineda was very grateful to work with such an open patient. Alvarado was in his late eighties and often talked in detail about his fond experiences at the Bradbury Building. In addition to working there as an elevator operator, Alvarado also worked as a grocery clerk, a dress cutter, and as a seamster.
"Jim shared both the positive and difficult moments in his life. He spoke about his struggles growing up, but also spoke about how he overcame those moments. He loved to talk about music and dancing. He would always share how he and his wife were always the first one's dancing when they would start playing music. He would enjoy sharing his Pachuco days," said Pineda.
A LIFE IN LOS ANGELES 
Jim Alvarado was born July 25, 1930 in Bush, Colorado. His family relocated to El Paso, Texas early in his childhood. At the age of fifteen, he traveled to Los Angeles from his childhood home. Alvarado dreamed of an exciting life for himself in Los Angeles, and he went after it. He was a pioneer in that way, and he blazed his own path. He considered himself a Pachuco, a member of a Chicano sub-culture popular at the time which was associated with zoot suit fashion, jazz and swing music, and a distinct dialect known as caló or Chicano slang.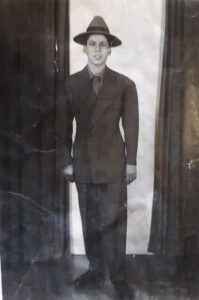 He stayed with his sister for a brief time and then ventured out on his own. Alvarado felt that there was an air of mystery surrounding a city he had never been to before. For a few weeks, he lived day-to-day to the best of his ability, making connections and friendships in Los Angeles.
One of those connections would turn up good fortune. His first job in the City of Angeles was as a stock boy at the famous downtown Grand Central Market. Alvarado was introduced to a fast-paced life that involved everything from Hollywood, the Zoot Suit Riots, and the overflowing of the LA River. It was new, exciting, and everything Alvarado hoped for. He fit right in.
Rosemary Tuckett, who is one of Alvarado's five children, remembers the way her father spoke about his time in downtown Los Angeles. She recalls that he frequently talked about these memories.
"At that time, there were also a lot of movies being recorded, artists like Lucille Ball and Ricky Ricardo were in the building filming. He would see that happening live," said Tuckett.
He was right in the heart of it all. He gained employment at the Bradbury building as the elevator operator shortly after his job at the market. He did not know it then, but this building would ground him for the rest of his life. It was at this job that he even found a new place to live. He resided in the basement of the building, and learned the contours of Los Angeles like the back of his hand. Eventually, he learned to navigate all of the secret tunnels located beneath the city.
The Bradbury Building was a bountiful place of opportunity for Jim. He steadily climbed the ladder into higher-paying jobs with more access to the building. After serving as an elevator operator, he gained employment at Marian McCoy, a high-end apparel maker for women. They offered him a job as a dress cutter. He had finally worked his way to the top floor.
Alvarado had a charm that sparked magical moments in the city. Alvarado met his wife, Petra, at the Diane Ballroom, where she was selling tickets for an event. They married at the age of 17.  His wife would always be the first to try his McCoy dresses. Together, they bought their first home in Santa Fe Springs. They were married for 67 years.
They decided to raise a family in the suburbs of Santa Fe Springs and he worked various jobs throughout the course of his life. After moving to the suburbs, he worked with a boat company, and at a high school. He retired after 25 years as a custodian at Whittier High School, where all of his children went.
Alvarado could be found listening to Spanish, Country, Mexican music—or a blend of it all, like Eydie Gormé. He loved golfing and spending time with his family and friends. The Alvarado's often hosted parties and barbeques. They also encouraged sports, camping, girl and boy scout clubs, and were supportive parents, according to Tuckett.
WORKING WITH HEALING CARE HOSPICE 
Tuckett trusted Healing Care Hospice to care for her father because they had also cared for her mother in 2017. Tuckett's mother, Petra, spent two weeks in hospice care. It was through this experience the family learned about the care provided from attentive nurses, compassionate social workers, and soulful chaplains.
"It was because of my experience with my mom with Healing Care Hospice that we chose that for my dad. We wanted to keep the same hospice because of that experience" Said Rosemary.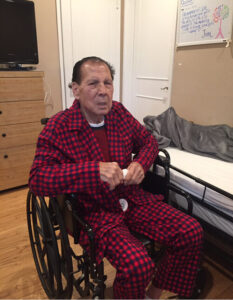 Tuckett knew that when her father's cancer started to affect his day-to-day functioning, motor skills, and mental capacity, that they had to prepare for hospice care. She was reassured that Healing Care was always there with support and resources. Help was just a phone call away and someone would always follow up with a visit.
"We would call [Amanda], the RN Case Manager and she would comfort [us]. That was helpful because there were nights when he couldn't sleep, and he had insomnia and would suffer from anxiety, and we would have that taken care of right away." Said Tuckett.
The plan of care was extremely detailed, due to consistent communication from the interdisciplinary team. Alvarado's Registered Nurse, Angela Benitez, was always in contact with the social worker and the chaplain. They always coordinated and worked together to make sure that if their patient was experiencing loneliness, he had frequent check-ups and music therapy because it made him happy. There was also a steady follow up with the family after visits. The hospice team was like the extended eyes and ears of the family.
"[Attention to care] was the same with Angela Benitez. She was always ahead; she was on top of everything. It's was very helpful. They got to know my dad so well." Said Tuckett.
During a time when isolation increased loneliness, Healing Care Hospice staff was able to bring this patient a warm escape with music and friendship.
VISITING THE BRADBURY BUILDING
"One day, we spoke with his daughter Rosemary and asked her if she would like to take him to downtown Los Angeles to see the Bradbury building. Working there was a very important time in his life," said Pineda.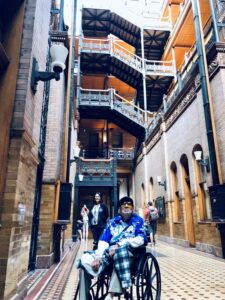 Rosemary thought it would be an amazing trip for her father, and they all coordinated to take him there.
"It was really nice to take a trip down memory lane before he passed. And I'm glad that we were able to fulfill that. And what was nice was the staff were on board with that. I was very appreciative," said Tuckett.
When they arrived at the Bradbury building, Alvarado was ecstatic. He was finally home.
"Welcome to my house," Alvarado said.
 Alvarado looked around the building and showed his daughter Tuckett, Ortiz, and Pineda places that were special to him. The elevator, the top floor, practically every corner had a special memory.
"We had a little tour of the building. My dad wanted to let them see his history and how he grew up. It was very nice. We even had lunch." Said Tuckett.
Seeing Alvarado at his home all those years later was special for his Ortiz. Throughout the time he got to know Alvarado, chaplain Ortiz learned that he had an incredible story. A pioneer, a Pachuco, a family man, and a hospice patient—one that loved music. Ortiz will always remember how animated his facial expressions became anytime someone sang or played music for him.
In loving memory of Jim Alvarado.
This story is part of a two-part series on the experiences of Jim Alvarado, as interviewed through his daughter, Rosemary Tuckett, and members of his care team.
Other Related Blog Articles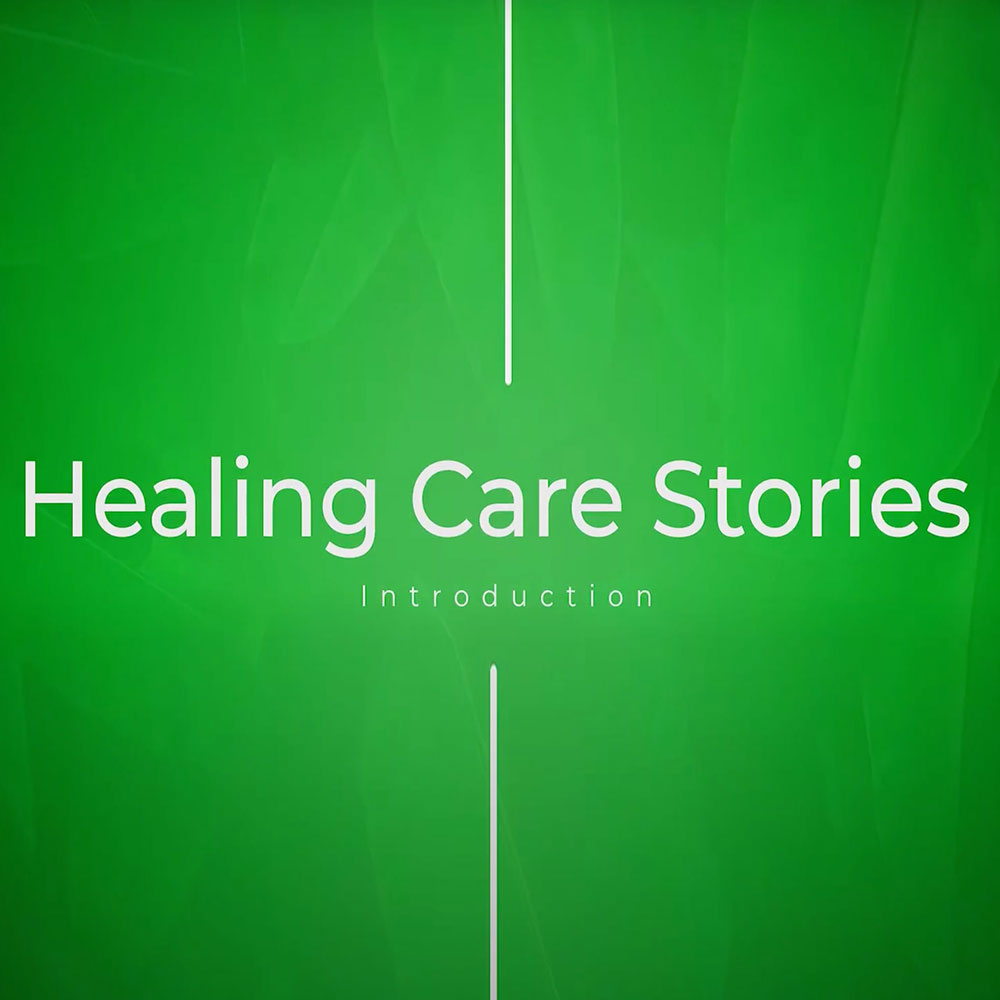 Patient & Families
LOS ANGELES, CALIFORNIA – JULY 30: Lobby of the Bradbury Building on Broadway on July 30, 2017...