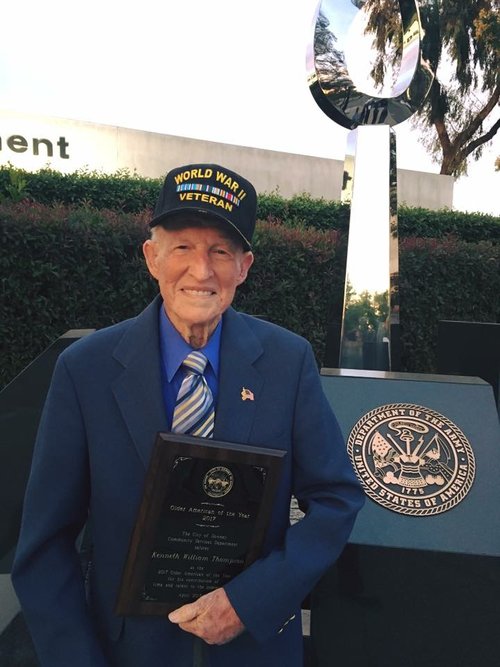 KENNETH THOMPSON | HONORED WWII VETERAN
Healing Care Hospice had the honor and privilege of caring for Staff Sergeant Kenneth William Thompson during his final days on this planet. To his friends and family, and to the City of Downey where he was the last living WWII veteran, Sergeant Thompson was both a hero and a valued member of the community.
Born February 9, 1917 to Eleanor Swendb and William Holmes Thompson, Sergeant Thompson grew up in Duluth Minnesota, a small town where he enjoyed ice skating with his three brothers. During the Great Depression, times got very hard for his family and they lost everything. Sergeant Thompson got a job at the local creamery to help his family make ends meet. During those though years, everyone chipped in–his brothers also got jobs and his Mom worked two jobs.
In May 1942, Sergeant Thompson enlisted in the Army at the age of twenty-five and was trained as a radar technician. He served as a Private in the General Officers Branch of the Selectees during World War II. During his service in the Army, Sergeant Thompson served in five major battles, including the Battle of the Bulge and the Siege of Bastogne. When the bombs were dropping during the Battle of the Bulge, his unit could see the planes heading towards them. Sergeant Thompson was the only soldier who stayed at his post while everyone else hid under their desks.
After those tough battles, Sergeant Thompson's platoon was scheduled to go to Normandy, but his unit's equipment arrived late, and another unit went in their place. That unit unfortunately did not survive. Sergeant Thompson was also scheduled to go to Okinawa, but the United States dropped the atomic bomb and the war ended prior to his deployment in Japan.
Sergeant Thompson's close friend, and fellow radar technician, sustained serious injuries during the war and suffered for years from severe PTSD. Sergeant Thompson always considered himself lucky to come back from WWII without any physical or emotional injuries. Nevertheless, he always empathized with those who were not as lucky. That connection to fellow veterans led him to consistently  donate his time and money to help injured veterans.
Sergeant Thompson also paid special respect to those who served in the Vietnam War, as he felt they were the forgotten soldiers. He always made a special effort to honor them in any way he could.
After he returned home from WWII, Sergeant Thompson and his brothers moved to California, where he met his wife. Luckily, she was also from Minnesota. They got married and had three little girls. Sergeant Thompson loved to do woodwork with his daughters. With hard work and dedication, Sergeant Thompson became the Supervisor of Field Training for the Maytag Company, where he worked for over 35 years.
Sergeant Thompson was loved by everybody. He was unique, joyful, and pleasant. He always had a sense of humor, regularly went to church, and enjoyed many friendships. Sergeant Thompson loved America, and he loved the Army. Mayor Pro Tem of Downey, Rick Rodriguez had close ties with Sergeant Thompson, stating  that "he was like a father to me, and I, his son."  Sergeant Thompson brought joy into every room he entered. His infectious smile and gregarious character made people of all ages gravitate towards him. He will be greatly missed by all those who knew and loved him.
Sergeant Thompson passed away on March 12, 2018 in Downey, California with his devoted family and friends by his side, on hospice.
Reflections on Sergeant Thompson from a close cousin:
"A little over a year ago, a huge celebration, attended by over 300 friends and family, was held to honor an incredible man, my dear Uncle Kenny, my Dad's brother, as he turned 100. I was born on his and aunt Vivian's first anniversary, which made him present in 100% of my life. And present he was, caring and compassionate, faithful and spiritual, so funny, clever, witty, and eternally optimistic. If you left his home in a bad mood, you just weren't paying attention. I was his favorite niece….his only one! He always called me on my birthday, singing in perfect pitch, and was never hesitant to say, "I love you." A proud WWII/Battle of the Bulge Vet and patriot, he revered the ever-present American flag on the pole in his front yard. Until recently, he unfailingly raised and lowered it each day. He also loved to decorate his home for every occasion, and a lot was never too much!
He was, without hesitation, and to the very end, welcoming to all, engaging and informed, and not bashful about sharing his political beliefs. Having received numerous plaques and recognitions on his 100th, he told me on our last visit just three weeks ago, that he had turned our current governor's framed greeting to face the wall!  At 101+, he had not lost one ounce of sharpness, but talked freely, joking in fact, of being, arrangements made, ready to go! Words not spoken with dread, but with a welcoming laugh of anticipation of what was to be. Yes, that was him!
On an earlier visit, in January of this year, still the same spirit, but beginning to slow, he had given up driving only months earlier, and an excellent driver he was. Independent till near the end, and passing away peacefully, in his own Downey home, just as my Dad did, something sweet and comforting happened, at that very moment, an unexpected breeze blew through, just as it had done at Dad's, as he passed away.
I love that….a spiritual sweetness on the breeze.
He cherished his three daughters, their spouses, and his grandkids, their spouses, and great grandkids, including twins, a boy and a girl, born in February, whom he met and snuggled, and another great, Rowan Kenneth, who arrived early on the 16th, just days after Kenny went to Heaven on March 12th. As someone noted, his month-early arrival was prompted by Kenny to bring back the family joy.
That strange old saying, only the good die young….this very good one lived to 101!!
Go rest high on that mountain, Kenny, your work on earth is done. You will be missed, but your loving spirit, so freely shared, remains."
Other Related Blog Articles