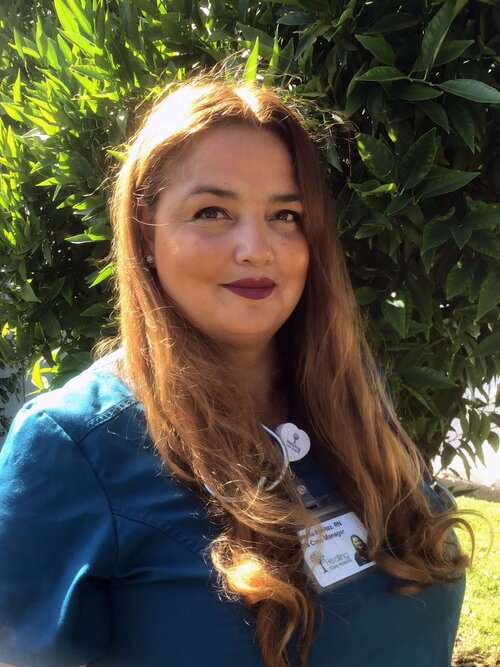 Angela Benitez, RN
Sun rays illuminated the avocado tree outside hospice patient Mary's home. At 96, her cognitive abilities have declined. Her family tends to her every day, although she cannot communicate or open her eyes. Her husband, usually outside tending to the small garden, was inside today. Both sat in their favorite chairs, now wearing masks. Due to Covid-19, it has been difficult for their family to get out. It has even become difficult getting some necessary items from the grocery store.
It is Daisy Acuna-Gonzalez's second day of training. She started her nursing career as an LVN, and earned her RN license last year. When she started working at Healing Care Hospice, she was assigned to train under RN Case Manager Angela Benitez. After weeks of shadowing, Acuna-Gonzalez, RN has learned a ton, but still has many questions.
The two stood at the gate in front of Mary's home in full PPE. They were met by two Healing Care colleagues leaving the patient's home. As the four colleagues walked past each other, they created a bustling moment. The commotion felt like family arriving on Thanksgiving. The patient's family exclaimed, "It's Angela," and welcomed Benitez in.
Jessica Pineda, MSW a social worker at Healing Care Hospice, was one of the two staff members on her way out. A smile sprawled across her face when she recognized who was approaching the front gate. "Angela is always very attentive and goes above and beyond for [our patient's families]. She is honest and sensitive, which is a great quality a nurse can have," Pineda said.
Pineda works alongside Benitez and knows that she can trust her colleague because of two qualities she possesses: empathy and honesty. Pineda feels that she can go to her for support regarding almost anything.
 Angela Benitez, RN is Healing Care Hospice's Passion-Driven employee for the month of August. When she trains new staff, Benitez emphasizes the importance of time management, double-checking all work, and self-care.
Outside of Mary's home, the four HCH staff members de-briefed after their check-ins. As they stood outdoors in the mid-day heat, with full PPE, they spoke about how they had been coping with current events by staying active and thinking positively.
HCH's care teams are structured to allow for open communication across disciplines to ensure a care plan that is specialized to each patient. Since staff notifies each other with detailed notes, there is an established level of trust. All teams perform their duties as if caring for their grandparents, parents, or family members.
For this reason, this acknowledgment of Angela Benitez's work ethic is high recognition. It is an honor to be regarded as an excelling employee, among a high performing staff who all do their jobs with great care and commitment.
"Families entrust our healthcare workers with their loved ones' final journey days. They allow us to step inside their homes, hearts, and memories forever. What occurs is a bond that is unique to every single patient," explains Benitez.
David Rodriguez, RN a Clinical Manager who supervises Benitez, knows he can depend on her. He believes that she is very reliable and hard-working. He explains, "She will be the first to call a spiritual counselor or social worker. She takes the initiative to involve the entire team, and best of all, she is not afraid to ask questions."
"I would describe her as motivated and always aware of a family situation with any patient. She uses the resources she has available and involves the entire team to meet the patients' needs. She emphasizes family needs as well," said Rodriguez.
Benitez had always dreamed about becoming a nurse, but life forced her to put the idea on hold. She worked as an accountant for over ten years until the universe nudged her back towards her goal. When her mother became ill, she became her primary caregiver. Inspired by the experience, Benitez enrolled at Mt. San Antonio and later transferred to Cal State LA. She graduated from West Coast University with a Bachelor's Degree in Nursing.
Benitez's aptitude for nursing lies within her family history. Her grandmother was a nurse in the 1920s. She explains, "I want my patients to have a peaceful passing; moreover, the families involved should be guided, informed, and shown sensitivity through this ordeal. It is never easy to lose a loved one. I know that my spirit hurts with every client."
Angela goes above and beyond her duties as a Healing Care Hospice nurse. She strives to build rapport with her patients and families; she works hard to communicate clearly with them and educate them on what they need to do and what they are likely to experience. This focus on clear communication and training helps her understand her patient's clinical, psychosocial, and spiritual needs, and it helps her patients and families achieve comfort and peace.
Thank you, Angela, for your hard work and commitment.
Other Related Blog Articles