Our Values
Love. Service. Impact. Learning. Humility. Compliance. Diversity.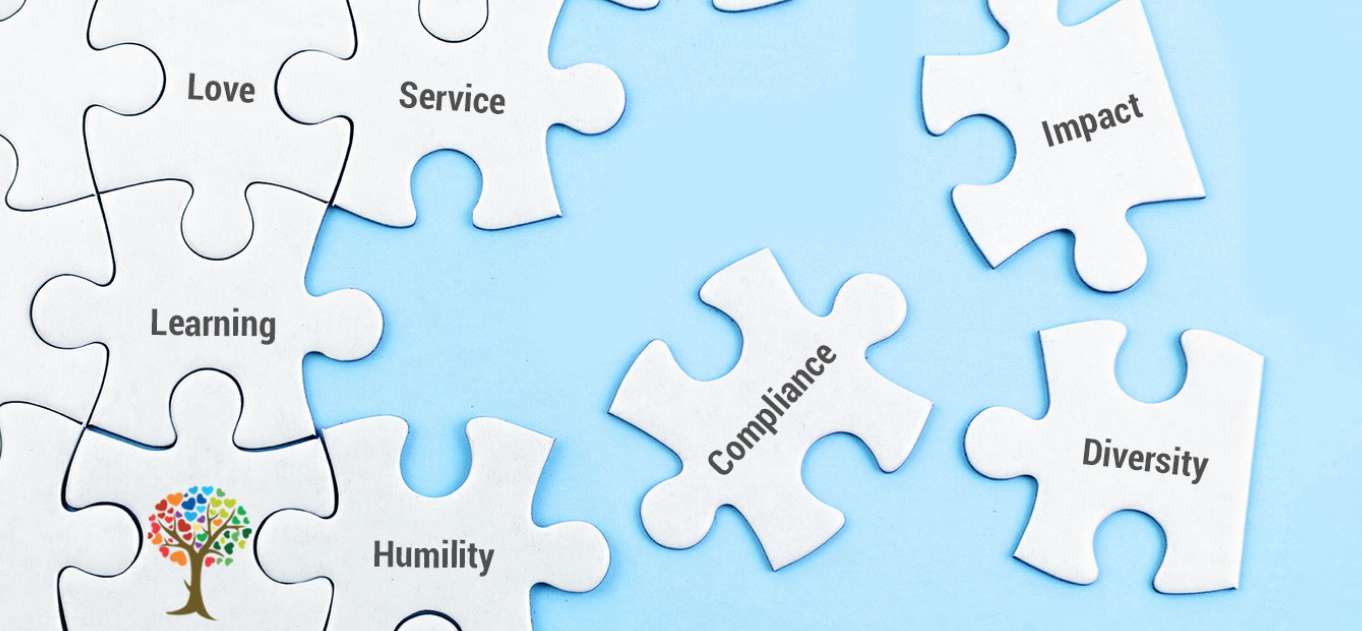 Love
Care based on love. It seems wrong to say, as if the idea of love should be reserved only for our friends and family, and kept separate from our professional lives. Clinicians, especially, are trained to maintain a certain emotional space from their patients to enable them to endure in their work.
That is all well and good, but we believe otherwise. We are a hospice agency, taking care of people at their life's end. At the core of everything we do, should be love. It should color our approach to our work, the way that we treat our co-workers, our presence throughout our day, and the energy that we transfer to our patients and their families. It should infuse us with purpose, and energize us when we are worn.
Service
Service to others is the most powerful way to create meaning in our lives. It is the most effective way to escape our obsession with ourselves. And it is the most profound pathway to reduce the negativity in our lives. However, the phrase "service to others" is often relegated to special projects that we do on weekends or holidays for our church group or for a local non-profit.
What if a company could encourage and empower its staff to embody the principle of service? Wouldn't that unleash a source of untapped energy within each individual, and across the organization?
We believe that encouraging and empowering our employees to embody the principle of service can accomplish great things. The quality of care improves; employee satisfaction increases; staff are more likely to fall into a flow throughout their day—utilizing all of their mental, emotional, and spiritual capacity in each moment—and less likely to focus on the time clock and office intrigue. When driven by the principle of service, people are more likely to go above and beyond what is expected of them and behave in ways that are impactful and inspiring.
Impact
Care based on love, delivered through the impulse to serve others, will result in emotional and spiritual healing. That is our foundational hypothesis. We can't prove it with empirical evidence. We can't measure it. To some extent, we are working off of faith. However, the feedback we receive from the families we serve lets us know that we are on a good path.
Learning
Well-meaning people without strong clinical skills will not be able to make the impact they seek. We must continuously educate and train our staff on best practices in palliative care, patient safety, infection control, quality improvement, operations, and human resources management. We must embrace technology where it can improve care quality and increase efficiency, and shun it when it disrupts the bond we strive to build with our patients.
Compliance
Compliance is often viewed as a series of time-consuming and useless chores. However, a shift in perspective can transform the principle of compliance into a powerful tool.
Compliance with the regulations and requirements imposed upon us by the institutions that fund our work should serve to remind us that we are caretakers of public monies. As most of our work is funded by Medicare, compliance should remind us that our patients have likely paid into Medicare throughout their entire adult lives, and now that they are life's end, they deserve the best care that we are able to offer them. This is a sacred duty and obligation, and the work that we do to remain compliant with regulations should serve to humble us as to the awesome responsibility that is bestowed upon us.
Diversity
We should embrace diversity as a source of new ideas and perspectives. Rather than focusing how we are different from one another, we should instead focus on celebrating what each new person can bring to our organization that is unique and particular to them.
Humility
Humility is possibly the most important value of all. It allows us to see beyond our own beliefs, convictions, and needs, and provides us with a bridge to understand and appreciate the other side of a matter. Humility allows us to get past our egos and to hear what our patients, colleagues, and partners are telling us. Humility opens us up to understand, makes it possible for us to learn, promotes our spiritual growth, and enables us to re-imagine ourselves.